Vote for your favorite at azdot.gov/signcontest
May 11, 2020
PHOENIX – Need a fun distraction for a few minutes? The Arizona Department of Transportation has you covered.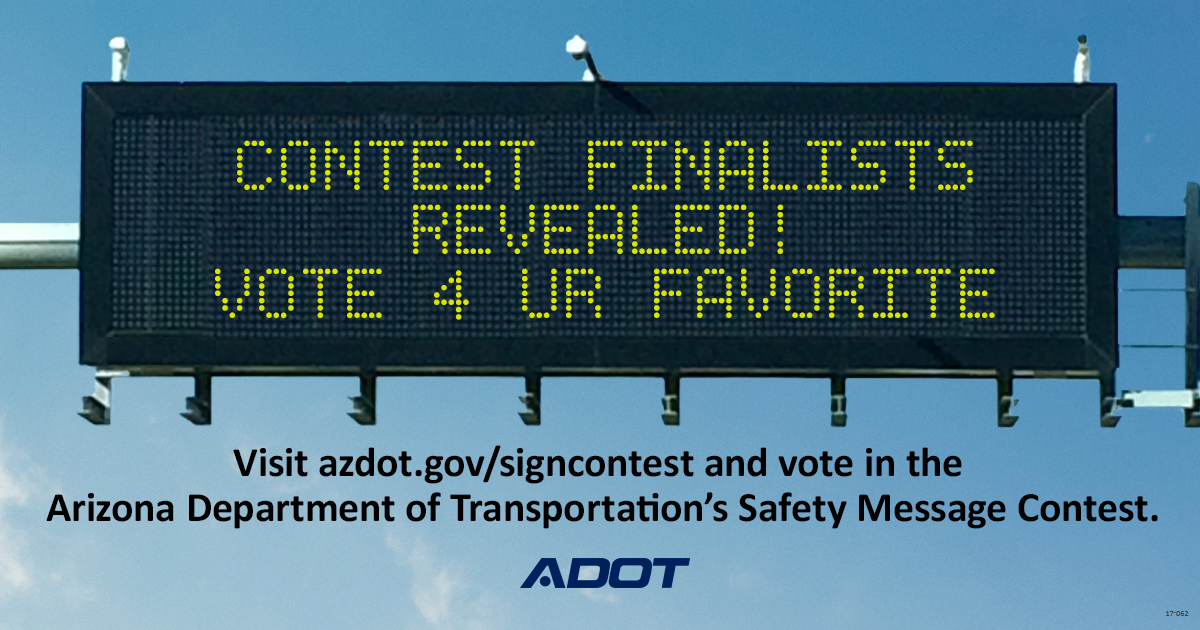 It's time to vote for your favorite in ADOT's fourth annual Safety Message Contest. From Monday, May 11, through Sunday, May 17, you can pick your favorite from among the 12 finalists and vote at azdot.gov/signcontest.
"In these unprecedented times, we can all use a distraction that makes us smile, even if it's just for a moment, and taking a look at the best of the contest's message entries can, hopefully, do that," ADOT Director John Halikowski said.
Arizonans submitted more than 4,000 messages that covered a variety of traffic safety topics, including, texting and driving, impaired driving, blinker use, tailgating, seat belts, child safety seats and more. The two finalists that receive the most votes will be displayed on Dynamic Message Signs statewide.
ADOT began displaying unconventional safety messages on overhead signs in 2015 as part of an effort to encourage drivers to make better decisions behind the wheel. According to national traffic statistics, more than 90% of vehicle crashes are caused by driver decisions, including choosing to speed and to drive distracted, impaired or recklessly.
"For the past four years the safety message contest has generated tremendous engagement with the public, and it's wonderful to see," Halikowski added. "We want to see people thinking and talking about safe driving, and the contest helps further that effort."