First published by  Get Smart About Drugs.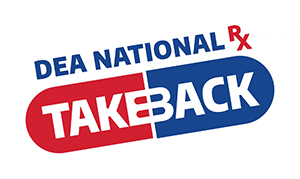 Do you have unused or expired prescription medication in your home? If so, there's a chance they could get into the wrong hands.
Clean out your cabinets, and drop off your meds at a designated location near you this Saturday, October 24, between 10 a.m. and 2 p.m. during Take Back Day.
This event is a safe, convenient, and responsible way to dispose of unused or expired prescription drugs at locations in communities throughout the country.
The October 2019 Take Back Day brought in 882,919 pounds (almost 442 tons) of unused or expired prescription medication and vape devices.
This brings the total amount of prescription drugs collected by DEA since the fall of 2010 to nearly 12.7 million pounds​. Read more about the most recent Take Back Day totals here.
Check DEA's official Take Back Day website for more information and to find year-round collection sites near you.
In the Meantime… What Should You Do With Your Unused Meds?
Most people who misuse prescription drugs get them from family, friends, and acquaintances.
You can make a difference by keeping track of the medicine you have, by rethinking where and how you keep your medications in your home, and by safely disposing of any unused medications.
Don't Share
Keep track of your legally prescribed controlled substances – that is, count your pills so you always know how much you should have and so you know when to take action if any go missing.  With controlled substances, sharing is NOT caring. You could be putting your loved ones at risk, and unintentionally contribute to drug misuse, drug addiction, or a fatal drug overdose. Read more about ways to secure your meds and safely dispose of them at home.
---
McCraren Compliance offers many opportunities in safety training to help circumvent accidents. Please take a moment to visit our calendar of classes to see what we can do to help your safety measures from training to consulting.