First published by FMCSA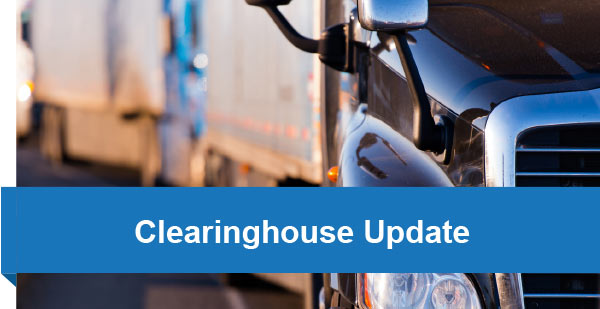 Photo: FMCSA
ANNUAL QUERIES: Are you up-to-date?
Employers of CDL drivers must conduct a query in the Clearinghouse at least once per year for each CDL driver they employ (for more details on employer requirements, see 49 CFR 382.701). A limited query satisfies the annual query requirement. The annual query is tracked on a rolling 12-month basis, which means that if you conducted your last annual queries in December 2020, it is time to conduct your next round of queries.
Log in to the Clearinghouse and visit your Query History page (under My Dashboard > Queries) to see if your annual queries are due. For instructions on conducting annual queries, download the How to Conduct a Limited Query job aid.
What do employers need to do to satisfy the annual query requirement?Employers must obtain a general consent from CDL drivers they employ before conducting limited queries in the Clearinghouse to view these drivers' information (you can download a sample limited query consent form). Employers may obtain a multi-year general consent from the driver for limited queries; if an employer obtained such a consent in 2020, the employer does not need to obtain the driver's consent again in 2021.
Employers can  log in to the Clearinghouse and conduct annual queries today.
What if an employer conducted a pre-employment query within the past 12 months?The pre-employment query satisfies the annual query requirement for that driver. Employers are not required to query the driver until one year after that pre-employment query. To learn more about queries and consent requests, download the Queries and Consent Requests Factsheet.
What is a query plan?
Before an employer can conduct queries in the Clearinghouse, the employer must purchase a query plan. Download the  How to Purchase a Query Plan job aid for full instructions.
---
McCraren Compliance can help you understand and comply with FMCSA, USDOT and ADOT and ensure your drivers and your vehicles operate safely and efficiently.
Call us Today at 888-758-4757 or email us at info@mccrarencompliance.com to schedule your free FMCSA Compliance Assessment.