First published by MSHA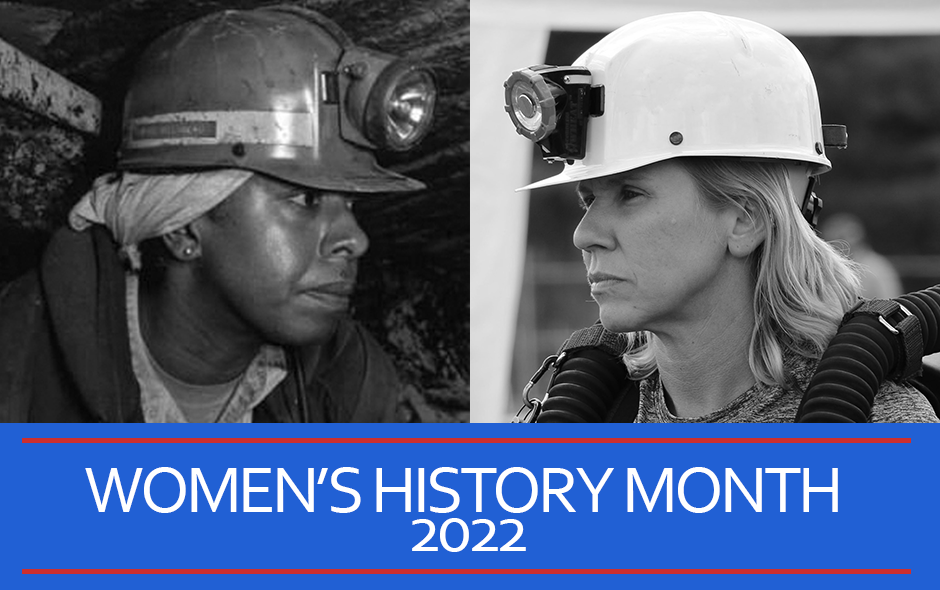 Photo: MSHA
Throughout America's history, women have played a critical role in mines and mining operations, often in the face of prejudice and other hardships due to their gender. During Women's History Month, we recognize the contributions women have made in the mining industry and their role in creating opportunities and better working conditions in mines.
Here are a few milestones from the history of women in mining:
1860s:
In the nineteenth century, women worked in mining as prospectors, ore processors, miners, managers and mine owners. Women "grubstakers" sometimes financed the initial cost of prospecting in return for part-interest in any claim.  In 1863, Mrs. Robert K. Reid discovered a vein of silver ore and filed a claim in her own name in Bingham Canyon, Utah, the site of one of our nation's largest mines.
1890s:
In the 1890s, two schoolteachers from Seattle, Washington, Annie A. Coffin and Stella L. Goodspeed, discovered a rich mining property in the Goat Lake area of the Cascade Range.  Coffin and Goodspeed rode the train from Seattle to Hartford and then, carrying packs of equipment and armed with revolvers and extra ammunition, walked 35 miles into the mountains, and climbed 3,000 feet up Mt. Monte Cristo.  Their finds were heralded by the Seattle Times on July 7, 1896, in headlines that read, "Gold was willing. Two Seattle teachers discover rich mines."
1960s:
Though no federal law prohibited women from working in the mining industry, tradition, cultural restraints and employer resistance all limited women's opportunities for employment in mining. This began to change in the 1960s.
On September 24, 1965, President Lyndon B. Johnson signed executive order 11246, stating that coal companies with federal contracts could not discriminate in employment because of a person's race or sex. The law was on the books, but women still faced discrimination in the industry. President Richard Nixon signed the Equal Employment Opportunity Act of 1972, which expanded and strengthened the scope of equal employment. This law allowed women to become more forceful with discrimination charges against coal companies.
1970s:
In 1974, Diana Baldwin, a former hospital receptionist, and Anita Cherry, a former practical nurse, became the first women to work in a coal mine. They were also the first female members of the United Mine Workers of America to work inside a mine.
By the mid-1970s, the largest American coal companies with federal contracts began hiring female miners with more regularity. A major administrative complaint, filed with the U.S. Department of Labor in 1978 against 153 of the nation's largest coal companies and mines, expanded job opportunities for women in the industry.
Many of these newly hired women worked in underground mines in the Appalachian coalfields.  Between 1974 and 1980, almost 2,400 women were hired as underground coal workers in the Eastern U.S., while only 242 were hired in the Midwest, and 272 in the West. Underground coal mines required a larger workforce than other types of mines.
Read more about women in mining.
---
McCraren Compliance offers many opportunities in safety training to help circumvent accidents. Please take a moment to visit our calendar of classes to see what we can do to help your safety measures from training to consulting.