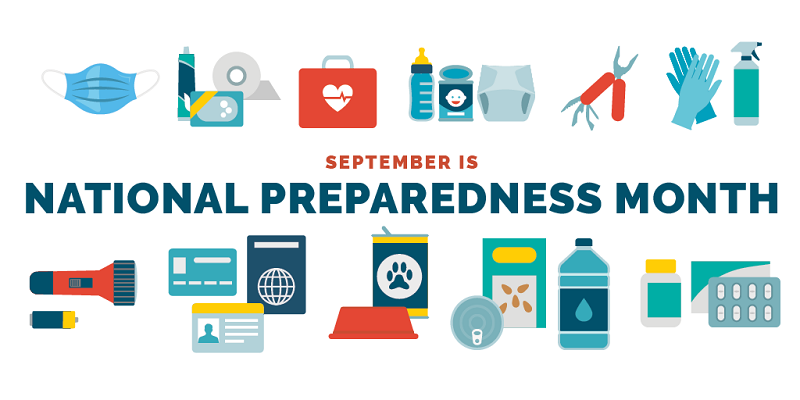 September is National Preparedness Month, and now is a good time to prepare for a natural disaster or emergency in the workplace.
The Occupational Safety and Health Administration (OSHA) reminds workers and employers to make a plan, so you know where to go and what to do to stay safe in an emergency. Here are a few things you can do to prepare:
Develop a plan and understand how to put it into action. Employers should develop emergency plans and ensure workers know how to execute them. Plans should describe shelter locations, policies to ensure all personnel are accounted for, procedures for addressing hazardous materials in the workplace, and maps that designate specific evacuation routes and exits. OSHA's Evacuation Plans and Procedures eTool is a helpful resource to use.
Build an emergency kit. Put together an emergency kit with the supplies and personal protective equipment you might need during an emergency. Include items like safety glasses or face shields for eye protection, cell phones with chargers, flashlights, and first aid kits.
Shelter in place. Follow local emergency official announcements related to sheltering in place. In certain situations, you may need to take immediate shelter whether you are working from home, at the job site, or in between. If you see large amounts of debris in the air, or if local authorities say the air is badly contaminated, you may want to "shelter in place."
Evacuate. Be aware if local emergency officials call for a mandatory evacuation of your area. Employers should examine how to safely shut down a facility if an evacuation is warranted. Don't wait until too late. Due to COVID-19, the Centers for Disease Control and Prevention recommends that if you need to seek public shelter to bring at least two cloth face coverings for each person and hand sanitizer.
Know what may impact your area and how you should respond. Stay aware of weather forecasts and warnings, and follow instructions issued by your local officials. Check the websites of your local National Weather Service and emergency management office. Employers should consider how an emergency might impact workers sheltering in place at a job site versus workers attempting to evacuate to safety. If local authorities or the on-site coordinators tell you to evacuate or seek medical treatment, do so immediately.
OSHA provides resources on workplace preparedness and response for a variety of hazards. For more information on protecting workers from emergency events, visit OSHA's Emergency Preparedness and Response page. In addition to these resources, seek guidance from your local fire department, police department, and emergency management agency.
For additional information and resources on how to better prepare for emergencies, visit Ready.gov, the National Oceanic and Atmospheric Administration and the Centers for Disease Control and Prevention.
---
McCraren Compliance assists employers in protecting their workers, starting with a comprehensive Work-site Analysis, Hazard Prevention, Controls, and Safety & Health Training.
Please contact us today at 888-758-4757 to learn how we can provide mine safety training and consulting for your business.