By John Halikowski / ADOT Director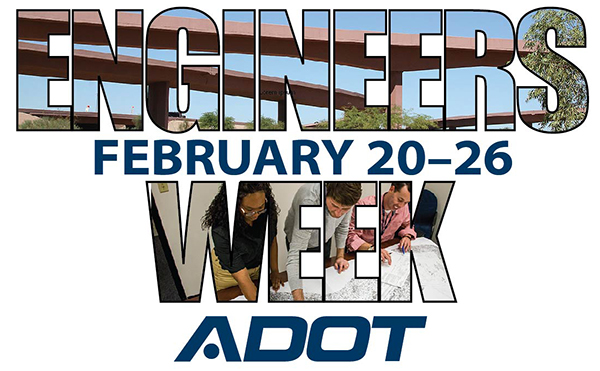 As a young boy, my favorite thing was to build rivers and reservoirs and dams from big puddles after a rainstorm, and channel the water using old pieces of pipe my dad had lying around. Little did I know back then that I would be leading a state agency, made up of the best and brightest engineering minds who build and maintain an efficient and safe transportation system for the traveling public.
Feb. 20-26 is National Engineers Week. I wish to congratulate and extend my thanks to our Arizona Department of Transportation engineers for the work they perform each and every day.
ADOT employs engineers with diverse backgrounds and fields of expertise. We have engineers who are environmental planners, bridge designers and surveyors, while others specialize in fields such as civil, utility, railroad, transportation systems, traffic and roadway. All of them work together to create a safe and reliable transportation system we can be proud of in Arizona.
To be an engineer requires an interest in math, science, technology…the STEM-related courses, and then applying that knowledge in a particular field of study. For some it starts as a love of Legos or building bridges with toothpicks. No matter where the interest comes from, ADOT looks to foster engineering skills. Sometimes that starts with an ADOT Kids activity or it might be the mentoring an engineer-in-training receives.
While I didn't pursue an engineering degree, I still get the opportunity to work alongside engineers and marvel at their ingenuity in building infrastructure to last for years to come.
Again, congratulations to all the engineers in Arizona! If you see an engineer, tell them thanks for a job well done and ask them why they became an engineer. I wouldn't be surprised if they say, "I like to build things."
---
McCraren Compliance can help you understand and comply with FMCSA, USDOT and ADOT and ensure your drivers and your vehicles operate safely and efficiently.
Call us Today at 888-758-4757 or email us at info@mccrarencompliance.com to schedule your free FMCSA Compliance Assessment.